Killer Instinct Arcade Fight Stick Tournament Edition 2 for Xbox One
C-C-C-Combo Breaker and Ultra with the Killer Instinct Arcade FightStick Tournament Edition 2 for Xbox One. Continuing the legacy of the original TE FightStick, this all-new version builds premium, arcade-quality Sanwa Denshi parts into an arcade stick that's both ready for competition and perfect for customization to make it your very own.
Authentic Japanese-Style Joystick and Buttons
This competition-ready FightStick uses high-quality Sanwa joystick and buttons, the very same parts found in Japanese arcade cabinets. The Sanwa JLF is the standard in tournament-grade FightSticks.
Premium-Quality Components with Genuine Arcade Layout
The eight-button Vewlix-style layout offers a classic and ergonomic Japanese-styled feel while providing full access to an arsenal of moves. The translucent Sanwa OBSC-30 action buttons respond with pinpoint accuracy and can withstand repeated use.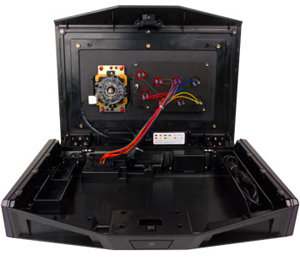 ---
Internal Access
The Tournament Edition 2 opens up to allow access to inner storage and components. Featuring dedicated storage compartments, you'll always have room for those extra tools and parts.
Removable Bezel and Clear Top Panel
Using the included screwdriver tool – with interchangeable hex and flat heads – the easily-removable bezel and clear top panel allow easy customization for artwork. With a unique design featuring holes that go around the action buttons, you can swap in custom artwork without having to remove buttons or fumble with confusing wires.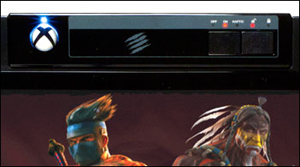 ---
Lock / Unlock Button
A lock button on the control module provides the ability to disable use of View and Menu functionality, and also prevents use of the Xbox button. No more accidental interruptions or automatic forfeitures in key moments during tournament matches!
Adjustable LED Lighting
Built-in LEDs light up your FightStick during gameplay. Toggle between OFF/ON, and HAPTIC, which allows the LEDs to light up using rumble data. Using the joystick to switch between 12 different settings, you can easily adjust the brightness of the buttons' LED effects.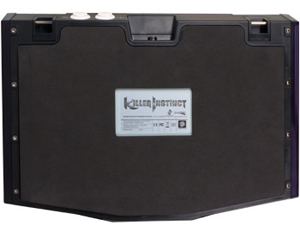 ---
Heavy Metal Base with Durable Foam Padding
This is no cheap plastic toy; the durable metal base increases the FightStick's weight for a solid, secure feel when draining your foe's life bar. Non-slip foam padding coincides with where the controller rests on your legs during lap-mounted gameplay. When a match's intensity increases and one final hit determines the victor, the last thing you want to worry about is an uncomfortable gaming weapon.
Ready for Travel
The Tournament Edition 2 comes with a removable ProCable which utilizes a unique design to screw into the back of the FightStick. Wired USB connectivity stifles threats of latency or drop-out during competitive play. Fully detachable, simply store the ProCable in the internal storage compartment when not in use.
With a Tournament Edition 2 Shoulder Strap (sold separately), free your hands from carrying your FightStick while standing and waiting for your next match. Featuring an adjustable length and padded cushioning, it's a must-have for any mobile warrior.